The 48 Best Keto Snacks For 2018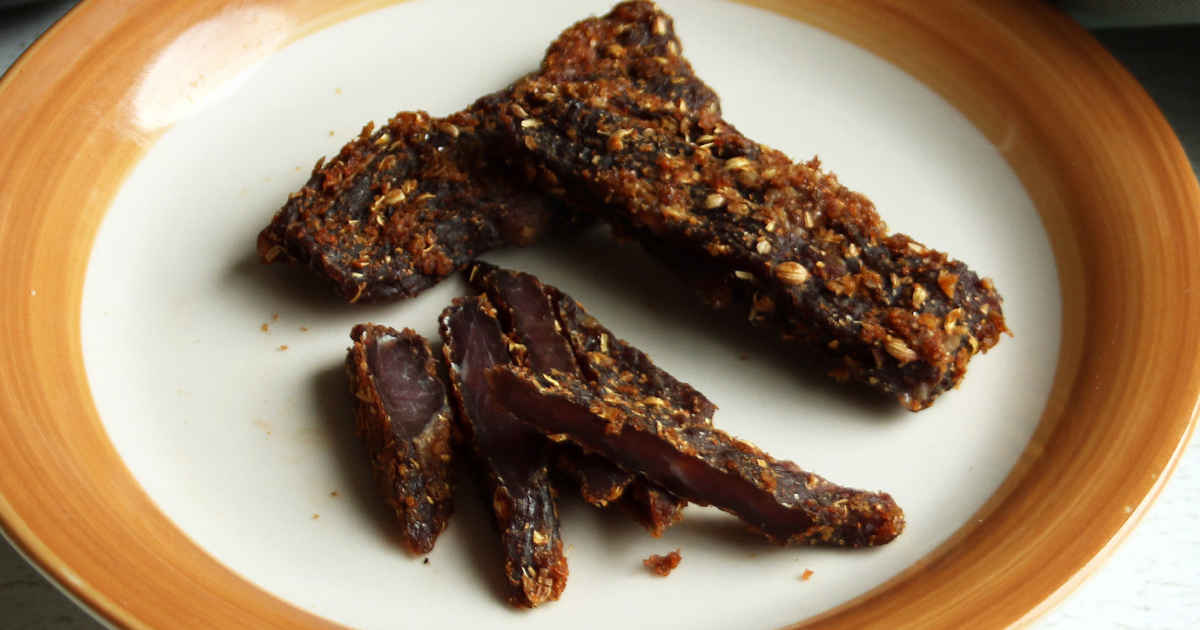 Finding Keto snacks at the grocery store is one of my most hated activities! There's nothing but high carb potato chips, candy bars, and cookies. It's like temptation city.
It took me years to figure out which snacks I could enjoy on a Keto diet, and now I buy those Keto snacks online or make snack recipes at home so I'm never tempted to get anything at the store.
And in this post, I'm going to share with you my favorite Keto snacks, including snacks you can buy and snacks you can make.
These snacks are all low carb, delicious, and they'll will help keep you in ketosis.

What Snacks Can You Have On Keto?
Snacks high in carbs are cheap for large companies to manufacture. They can dump lots of cheap high fructose corn syrup, wheat flour, vegetable oils and create an endless supply of unhealthy, addictive snacks that add no nutrients to our diet.
Keto snacks, on the other hand, use expensive ingredients like nuts, seeds, meat, and high quality fats in order to keep the carb count low. Luckily, with growing demand, there are more and more snacks available (even in stores).
I've put together a longer list below (with my favorites brands and where to purchase), but here's a quick list:
Bacon
Avocado (whole or as Keto Guacamole)
Eggs (e.g., deviled, boiled, egg salads)
Best Keto Snacks For Traveling
I'm actually sitting in a car for 3 hours as I write this, so I know about about keto snacks for traveling.
I don't recommend making snacking a regular thing on your Keto diet, but snacking has its place. And long car rides, plane trips, and train journeys are definitely better with some Keto snacks on hard. That way you'll avoid being tempted to buy expensive junk food at the airport or at service stops.
Here are the Keto snacks I packed for my road trip:
beef and bison jerky,
canned sardines,
avocado, and
100% dark chocolate.
Boiled eggs, nuts, and coconut butter are also easy-to-pack snack options.
You can also check out these 5 snacks on the go:

Ok, I know you're probably getting hungry just reading my lists of foods, so without further ado, here's my update 2018 list of Keto snacks (including brands and where to buy). And keep for Keto snack recipes, keep scrolling down!
The 2018 List of Keto Snacks You Can Purchase
KETO BEEF JERKY
Beef jerky is one of the most popular snacks on the keto diet. It's an excellent source of protein and it's also low in carbohydrates. For those looking for higher ketone levels, you might want to make sure you don't eat too much jerky as they are very high in protein and low in fat.
Beef jerky (or made from other meats) are pretty common across the world. They're low in carbs, low in fats, and high in protein.
The high protein content in jerky makes them less suitable for ketogenic diets (most people worry that eating too much protein will kick them out of ketosis).
But, they are a really convient and easy low carb snack to have around. If you're worried about your protein intake, then just make sure to eat a bit less jerky and add in more fatty Keto snacks like pork rinds or almond butter.
When you're buying jerky at the store, look at the ingredients list and make sure there's no added sugar as too much sugar could easily kick you out of ketosis.
SUGGESTED BRANDS FOR KETOGENIC BEEF JERKY
People's Choice Old Fashioned Hot & SpicyIngredients: Beef, Water, Seasoning (Sea Salt, Spices, Garlic, Cracked Red Pepper).
Brooklyn Biltong Grass Fed Dried BeefIngredients: Beef, Marinade (Apple Cider Vinegar, Water, Sea Salt, Coriander, Black Pepper, Allspice).
Grass Fed Jerky ChewsIngredients (Original Flavor): Redmond Unrefined Sea Salt, Vinegar.
KETO MEAT STICKS
Meat sticks are similar to jerky but are softer and often more flavorful. Most meat sticks tend to be sugar-free, but double check the ingredients just in case.
These tend also to be low in carbs, low in fats, and high in protein. For the most part, they're just meat with spices and seasoning. They tend to be more tender than jerky.
SUGGESTED BRANDS FOR KETOGENIC MEAT STICKS
Nick's Sticks 100% Grass-Fed Beef Snack SticksIngredients: beef, water, Redmond Seasoned salt (sea salt, onion, coriander, mustard, black pepper, paprika, celery seed, turmeric, and parsley), lactic acid (derived from non-GMO beets), celery juice.
Chomps' Snack Sticks – Beef Hoppin' JalapenoUse code SAVE10 to save 10%. Valid 12/15 only!Ingredients: 100% Grass-fed beef, water, sea salt, lactic acid, jalapeno peppers, celery juice, black pepper, red pepper, garlic powder, coriander, stuffed in a collagen casing.
US Wellness Meats Sugar Free Meat SticksIngredients: pork, beef, water, salt, encapsulated lactic acid, dried jalapeno pepper, celery juice powder, red pepper, ground jalapeno pepper, garlic, natural smoke flavor, black pepper, coriander, onion powder, white pepper.
KETO PORK RINDS
Pork rinds are the perfect Keto snack for when you're craving something crunchy. They're high in fat and low in carbs and protein.
These are perhaps one of the most perfect snacks for a ketogenic diet – they're fried pork skins, and when they're done well, they taste almost like Cheetos.
Certified Nutrition Therapy Practitioner and Certified Personal Trainer Jodelle Fitzwatersays pork rinds are also a good source of dietary collagen. Plus, "Pork rinds will not raise blood sugar and contain no carbohydrates making them healthy chip alternative for those with blood sugar handling problems."
SUGGESTED BRANDS
KETO SEAFOOD SNACKS
Snacking on seafood may sound strange, but it's a great source of omega-3 fatty acids which are important for brain health. Plus, you can find seafood in cans or pouches making them easy to transport or store in your pantry. They're also often stored in healthy fats like olive oil or coconut oil so they're also high in fat as well as nutrient-dense.
In particular, I love canned sardines – they're naturally low in carbs, high in fats, and have a moderate amount of protein. They're also highly nutritious and delicious. They pack easily and keep for years, so enjoy them as a quick Keto snack or with a salad or grilled vegetables for a super fast Keto lunch.
SUGGESTED BRANDS KETOGENIC SEAFOOD SNACKS
KETO CRUNCHY SNACKS – NUTS & SEEDS
Nuts and seeds can be a great Keto snack, but be careful not to consume too much of these as they can be high in carbs and really easy to overeat! Check out our post on the carbs in nuts and seeds here for more info.
In particular, macadamia nuts are one of the best nuts for a Ketogenic diet.
SUGGESTED BRANDS FOR KETOGENIC NUT AND SEED SNACKS
KETO NUT BUTTERS
Try scooping nut butter straight out of the jar or pairing it with some coconut chips.
SUGGESTED BRANDS FOR KETOGENIC NUT BUTTERS
Is it OK to eat Peanut Butter on Keto?
You might have noticed that peanut butter wasn't on the list of nut butters above. And while eating peanut butter won't necessarily kick you out of ketosis, there are a few health reasons why it's better to stick to real nut butters instead of peanut butter (peanuts are technically a legume, not a nut).
In particular, peanuts are loaded with a fungus called aflatoxin that has been linked to liver cancer. Peanuts also contain the lectin, peanut agglutinin, which could penetrate your gut lining and cause allergies and digestion problems.
Check out our post here for a full run down of the reasons to avoid peanut butter on keto.
KETO CRUNCHY SNACKS – CHIPS & CRACKERS
You can still eat chips on the keto diet – they just look a little different from the highly-processed unhealthy potato chips that most folks are used to.
For crackers made from nuts and seeds, just be aware that they can be easy to overeat and often contain a bit more carbs. Spread some nut butter on top for a delicious and filling snack.
We'd also recommend avoiding too much flax seed or flax seed flour as they tend to go rancid very quickly (producing a fishy flavor to the foods).
SUGGESTED BRANDS FOR KETOGENIC CHIPS AND CRACKERS
KETO SWEET SNACKS – CHOCOLATE BARS
Good news for chocoholics! You can still enjoy your favorite snack, just make sure to consume high-quality dark chocolate with no added sugar.
If you're unused to eating dark chocolate with no sugar, then it can take a bit of time to get used to. Spread some coconut butter or nut butter on the dark chocolate for a quick snack. Or you can melt the dark chocolate over some macadamia nuts with some sea salt or cinnamon powder for another version.
There are some sugar-free chocolate brands (made with inulin, erythritol, or stevia), and we've listed a few of those options below. Just be aware that these also taste different to regular chocolate and cane sugar and that some people may suffer digestive issues with sugar alcohols like maltitol, erythritol, xylitol, and sorbitol. So be careful when you try them.
SUGGESTED BRANDS KETOGENIC CHOCOLATE BARS
KETO BARS
It might be hard to imagine that there could be Keto bars, but people have been really creative in coming up with amazing Keto concoctions.
In particular, give Peregrine Nutrition bars a try! They're not sugary, but they give you a great boost in healthy fats and make an excellent Keto snack.
Peregrine Nutrition BarsIngredients (100% organic): macadamia nuts, unsweetened raw cacao, pastured egg, grass fed ghee, unsweetened coconut, grass fed beef collagen, chia seeds, pecans, lime juice, cayenne pepper, vanilla extract, Himalayan pink salt, fig, stevia leaf.
Pegan® Protein Bar (Vanilla Cinn Roll)Ingredients: organic pumpkin seed protein (seed protein), organic digestive resistant prebiotic fiber (from organic tapioca) (Non-IMO), organic sunflower seed butter, organic unrefined virgin coconut oil, vanilla extract, cinnamon (ceylon), monk fruit (lou han guo), produra (probiotic).
Keto Bars (contains dairy)Ingredients: Chocolate liquor, Coconut, Whey Protein Concentrate, Erythritol, Butter, Water, Heavy Cream, Salt, Potassium Sorbate, Stevia.
Are Quest Bars Keto?
In short, the answer is maybe.
Quest Bars are a convenient option and there are a wide variety of flavors available, each with its own nutritional breakdown. Not every bar will offer the same ratio of macronutrients, so you'll need to read the label to make sure it fits your needs.
If you're running late for work or class and forgot to grab breakfast, stopping in to the gas station for a Quest Bar can seem like the perfect option – but is it the best option when following the Keto diet?
One of the most important things to look out for is the fat, protein, and carb counts of whatever you are eating, and that includes snacks and meal replacements.
Fat: On average, Quest Bars contain about 8 grams of fat.
Because fat is the lynchpin of the ketogenic diet, it would be better if these bars had a bit more fat in them. There are other keto-friendly snack options that do have more fat in them, but in a pinch having just 8 grams isn't going to hurt anything.
Protein: Most Quest Bars have about 21 grams of protein in them which is about as much protein as you'll find in a serving of steak.
Those who follow the keto diet should be aiming for a moderate protein intake, so be sure you're not eating 20 Quest bars each day and you should be ok.
Carbs: In general, Quest Bars contain 4 grams of net carbs.
For most people, this is perfectly acceptable and falls into the keto-friendly range. Quest Bars are sweetened with stevia and erythritol which don't affect blood sugar and should have no impact on ketosis. In some bars there are small amounts of sucralose which affects people differently, but most people won't have a negative impact from this ingredient.
The Verdict
At the end of the day, we know that not everyone lives in a perfect world where you can completely avoid snacking and make three perfect keto-friendly meals that hit the macros on the head. No, we get that sometimes convenience is key. Sometimes you just want a quick and sweet treat that doesn't take work but that won't derail your efforts.
In these moments, we declare that the occasional Quest Bar is indeed keto friendly.
There is no worry about the carb load, the protein is moderate and while it would be better to get more fat, enjoying a Quest Bar every now and then isn't going to knock you off the keto path.
OTHER KETO SNACK IDEAS
Here are a few other keto-friendly snacks we spotted:
Plus foods like bacon, boiled eggs, berries, and avocados are super easy ketogenic snacks you can buy for cheap. You don't even need a recipe to eat them!
How To Get Keto Snacks
If you are lucky enough to live in a bigger city, you are likely to have a much easier time finding the keto-friendly snacks and foods we have talked about here. If you live in a smaller town, you will likely find that these snacks are nearly impossible to track down. Or maybe you know they're out there, but you just don't have the time or energy to go to 5 different places to get them all.
Lucky for you, there are companies out there who completely understand this, and they want to bring you the best available options to help you along in your keto journey. Here we will give a quick overview of some of our favorite options so that you can see what is available.
Keto Krate
Keto Krate is a subscription-based service that sends keto-friendly snacks directly to you each month. Keto Krate makes it easier to stick to your goals by bringing you surprises and new snacks to try every month.
In each Keto Krate box you can expect to get at least 8 different keto snacks as well as generous coupons for purchasing more snacks.
Everything in your Keto Krate will always be low carb and gluten free, conscious of sucralose and soy, and there will never be any maltitol or aspartame in the snacks you receive.
There is no contract and you can cancel your subscription at any time.
Keto Chow
Some people don't have time to eat a meal or even a snack during their hectic days, and that's where Keto Chow comes in. This nutritional drink mix from Keto Chow is a good option for the occasional days when you just can't get to your steak and eggs.
Keto Chow is a drink mix that mixes with cream and water to create a nutritional drink that can replace a meal when you are in a time crunch. The company says that the nutrients provided in the drink can supply you with one-third of your daily requirements for vitamins, protein, electrolytes and more.
Keto Chow comes in a wide variety of flavors as well. You can expect to sample things like chocolate mint, strawberry, root beer float, cookies & cream, and pumpkin spice as well as many others.
Keto Chow can be ordered as a one-time purchase or you can get it as a monthly subscription.
Keto Box
Another subscription snack option is the Keto Box. Like other monthly subscription options, Keto Box procures a selection of snacks and sends them to you in the mail each month.
Keto Box promises that you will get between 8 and 11 different keto snacks every month, and Keto Box asks you to review the products they send you so that they know what is wanted and what they don't need to send.
As of this writing, there are no special dietary restrictions (gluten free, etc) that can be accommodated with the Keto Box, but they say they are working on making this an option in the near future.
Keto Box offers free shipping in the continental US, and you can cancel your subscription at any time.
Keto Kreme
A popular product from Pruvit, Keto Kreme is a good way to get more fat and nutrition into your keto diet each day.
Each packet of Keto Kreme contains a punch of healthy fats with a combination of MCT oil and coconut fat which gives you an energy boost and clears the brain fog.
You can also expect more than just healthy hair, skin and nails thanks to the blend of collagen types I, II, V and X which will give you mental clarity and performance enhancement.
Improved cellular function is a great benefit as well due to the bioavailability of the AC-11, B6 and B12 found in the Keto Kreme.
In addition to all the benefits listed above, Keto Kreme is extremely easy to use – just mix it with hot coffee.
Keto Kreme can be a one-time purchase, or you can opt to have it auto ship to you each month.
Keto Kookie
Keto Kookies are now known as Nui Kookies, but they are just as keto-friendly and as delicious as they have always been.
Nui Kookies are definitely friendly to the keto diet as they are made with MCT oil, coconut oil, grassfed butter and sweetened with erythritol and monk fruit.
The kookies are made with a proprietary blend of nut flours allowing the kookies to be grain and gluten free and they are always GMO free.
You can get the kookies in a one-time shipment or you can subscribe and get a shipment of kookies as often as you would like.
The kookies are offered in different flavors, including:
Chocolate chip
Double chocolate
Peanut butter
List of Keto Snacks Recipes
If you don't want to purchase Keto snacks, you can also make your own delicious low carb high fat snacks using these recipes below.
In particular, many folks love Keto fat bombs (delicious high-fat goodies – you can get savory or sweet ones). If you haven't come across Ketogenic fat bombs, then check out this post all about it).
Below are several Keto snack recipes including several Keto fat bombs recipes:
Frequently Asked Questions About Keto Snacks
What Snacks Have No Carbs?
All Keto snacks are low in carbs (usually less than 5 grams of net carbs per serving), but a few snacks have no carbs. Those snacks contain just fats and protein instead.
Here are some zero carb snack ideas:
Nuts (including nut butter), chocolate, coconut, seeds, vegetables, fruits, and even avocados all naturally contain a small amount of carbohydrates. That's why they're not on the list of snacks with no carbs.
Is Popcorn Allowed On Keto?
Popcorn is just corn kernels that go fluffy when heated. Popcorn isn't Keto as they're made from corn and naturally high in carbs.
3 cups of air-popped popcorn contains over 15 grams of net carbs.
Processed packs of popcorn are also loaded with artificial flavorings, vegetable oils, artificial coloring, and sometimes sugar. All of this makes popcorn unsuitable for a low carb, ketogenic diet.
Is Cheese Allowed On Keto?
This is always a tough question as dairy (especially raw, full-fat dairy) is highly nutritious and has been a part of ancestral diets for tens of thousands of years.
The main problem with cheese on a Keto diet though is that it can be easy to overeat. So if you're goal is weight-loss using Keto, then cheese could be your downfall.
Other issues with cheese relate to lactose and casein intolerances which could cause digestive and autoimmune health issues that many people don't even realize (like bloating, acne, and chronic inflammation).
That's why we suggest people give up cheese and all dairy products on Keto (at least for the first 60 days). This will help you lose weight faster as well as assess if your body can tolerate dairy products or not.
Should You Be Snacking On Keto?
Snacking shouldn't be a part of your regular Keto diet. That's why our Keto meal plans don't include a dedicated snack for each day.
However, snacking can be useful in some circumstances:
if you have to stay late at work
if you have to go somewhere unexpectedly during your meal time
if you're meeting friends for dinner somewhere where that doesn't serve much Keto food, or
if you have to travel on a long roadtrip or flight.
So use these Keto snacks wisely!
How To Read Ingredient Labels When Buying Keto Snacks?
It's easy to see a food labeled as Keto or low-carb and to trust that label. But the unfortunate fact is that you have to educate yourself on what's Keto and what's good for your body and long-term health rather than rely on those labels.
So with that caveat, here are some mistakes you'll want to avoid when looking for Keto snacks:
Avoid foods with too much artificial sugar. Many forms of artificial sweeteners can be harmful to your health and many forms of sugar alcohols can cause digestive issues. Stevia and monk fruit or lo han guo are probably the best sweetener options based on current research. But too much sugary foods can sometimes cause cravings, so it's best to not rely on them.
Avoid foods with MSG.
Avoid too much nuts and seeds as they can be easy to overeat.
Food quality matters so choose highly quality ingredients where possible.
"Keto" Ingredients To Avoid When Picking Snacks To Buy
Keto is more than just a diet to lose weight. If you follow a healthy Keto diet, it can also help heal some of your existing health issues.
But to do that, you have to recognize that Keto is more than just macros.
There's more to your food than net carbs and fat!
And in particular, there are chemicals that can be naturally occurring in some foods that are harmful to your body.
So, when you're picking out Keto snacks at the grocery store, avoid snacks with these ingredients:
Soy Products
Peanuts
Grains/Gluten (including wheat, corn, rye, barley)
Seed oils (e.g., canola, sunflower, vegetable oils)
Dairy products (if possible)
Artificial sweeteners other than stevia and monk fruit
Added sugar and artificial chemicals (preservatives, flavorings)
Don't blindly follow rules about Keto…remember it's your health at stake. Snacking has its place but don't use it to replace your meals or as an excuse to eat low carb junk.