24 Amazing Keto Quiche Recipes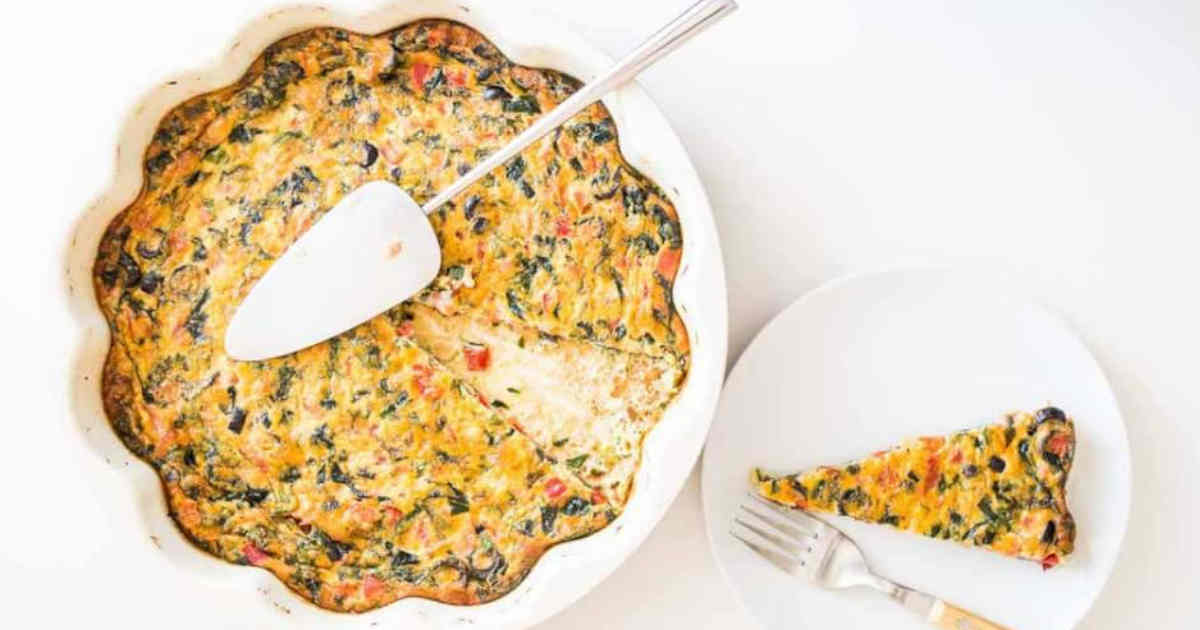 When you think of quiche you automatically picture a pastry crust filled with eggs, cream and cheese, which is definitely not low-carb, but don't despair!
Let me introduce you to my list of Keto Quiche Recipes, some of which even have a low-carb crust, so you can expand your breakfast and lunchbox options without making too much of a compromise.
Quiche is a great way to get more healthy eggs in your diet. Registered Nutritionist Jo Lewin, RNutr says, "Eggs are rich in several nutrients that promote heart health such as betaine and choline. A recent study of nearly half a million people in China suggests that eating one egg a day may reduce the risk of heart disease and stroke, although experts stress that eggs need to be consumed as part of a healthy lifestyle in order to be beneficial."
I have included a dairy-free section that still lets you enjoy quiche but still maintain your eating plan, and these can be useful if you are watching your weight or have dairy intolerances. Overeating can be a problem for some of us, so why not use the mini quiche recipes to help regulate this!

Here are just a few of the Keto Quiche Recipes we've included:
If you click or tap any of the links above, it will instantly take you to the recipe below. Or download the entire list by clicking on the green button below.

Dairy Free Keto Quiches
– Keto Summit
Ingredients: asparagus, bacon, onions, eggs, coconut milk, salt, pepper.
Mini foods are so appealing to look at and these frittatas are no different. They are great served warm for breakfast, can be carried to work for a tasty lunch or simply enjoyed as a snack. Children are also keen to try mini foods, so these can be a good way to get them eating more healthily. If you are not too keen on the taste of asparagus, you could use green beans instead.
– Paleo Flourish
Ingredients: eggs, ham, spinach, leek, coconut milk, baking powder, salt, pepper.
These little crustless quiches have the perfect balance of meat and vegetables, making them super-tasty and perfect for a quick snack or a lunch. These taste so good cold so would be great to take to work or pack in the kids' lunchboxes. Just be a bit careful to taste the mixture before you add the salt as the ham can be salty enough, depending what type you use.
– Cook Eat Paleo
Photo Credit: Lisa from Cook Eat Paleo
Ingredients: coconut oil, bacon, bell peppers, onion, spinach, tomatoes, eggs, olives, basil leaves, garlic, coconut cream, salt, pepper.
This quiche has notes of Italian cuisine thanks to the olives and fresh basil and makes a tasty lunch or dinner. You could even add in some Italian seasoning for a more authentic flavor. If the bacon you use is quite salty, taste the mixture before adding the salt and pepper to make sure it is not over-seasoned. This is great as it is or served with a fresh green salad, and can be portable in lunchboxes too.
– Low Carb Yum
Photo Credit: Lisa from Low Carb Yum
Ingredients: zucchini, ghee or coconut oil, garlic, eggs, coconut cream, herbs, sea salt, radishes, black pepper.
Crustless quiches can be so helpful if you are trying to lose weight because you don't have pastry to worry about, and trust me you won't miss it! This recipe is vegetarian so this quiche would be a great dish to serve for vegetarian friends or family. The pops of color you get from the veggies make this an attractive meal to serve. When I make this one I chop the veggies a bit smaller but just do it the way you like it!
– Cookin' Canuck
Ingredients: pancetta, olive oil, cremini mushrooms, fresh thyme, eggs, egg whites, water, smoked paprika, salt, ground pepper, parsley.
Bacon and mushrooms go so well together that you are bound to love this quiche! Full of meaty goodness and with a hint of smokiness from the paprika, this dish keeps well in the fridge so you can have it for breakfast for several days. You can reheat it if you prefer, but it tastes great cold too. I always take one on picnics so there is plenty to share!
– Jan's Sushi Bar
Ingredients: bacon, Vidalia onion, white button mushrooms, spinach, eggs, coconut milk, thyme, kosher sea salt, black pepper, nutmeg.
Here is another great recipe for a quiche using mushrooms and bacon with the added goodness of spinach. It is crustless so you don't have to worry about pastry, and it is relatively low in calories which can be helpful if you are watching your weight. The recipe calls for a Vidalia onion, but any sweet onion would work here.
– Meaningful Eats
Ingredients: almond flour, salt, coconut oil, egg, ghee/coconut oil, leeks, thyme, swiss chard, almond milk, pepper, nutmeg.
The crust for this dish is made with almond flour and gives you a lovely crumbly base for the egg and vegetable mixture. Leeks are a super-versatile vegetable and they add a great freshness to the flavor here. The chard adds to the taste and appearance because of their red stems but if you find it hard to source just sub it with some spinach instead.

Crustless Keto Quiches
– Ditch the Carbs
Photo Credit: Libby from Ditch The Carbs
Ingredients: salmon fillet, eggs, cream cheese, full-fat milk or cream, salt, pepper, dried dill.
This must be one of the simplest recipes around, yet you get a fabulous tasty quiche that would be ideal for any meal or as an addition to a lunchbox. You don't have to pre-cook the salmon as it cooks along with the other ingredients. You could make this quiche go even further by adding in extra vegetables and this dish freezes well for up to one month.
– KetoDiet
Ingredients: healthy cooking fat, broccoli, parsley, eggs, Parmesan cheese, salt, black pepper, heavy whipping cream, Swiss cheese, avocado (optional), Sriracha sauce (optional).
Here is another recipe for mini breakfast quiches to give your system a healthy boost first thing in the morning! Even the youngest members of the family will love these and they also make good lunch ideas for taking to work or school. If you don't have broccoli you could use leek or even cauliflower instead – the choice is up to you!
– Low Carb Maven
Ingredients: bacon, spinach, eggs, onion, heavy cream, Swiss or cheddar cheese, salt, pepper, nutmeg, lemon zest (optional).
Quiches can be a great way to encourage the family to eat healthy greens like spinach and it goes really well with bacon. As this recipe is for a crustless quiche you can either cook it in a baking tin or separate the mixture in a muffin tin to make individual ones to have for breakfast or to pop in a lunchbox. I like to put this one under the grill for a few minutes to crisp up the top!
– Low Carb Maven
Ingredients: white or brown mushrooms, butter, shallot or onion, eggs, heavy cream, water, Gouda cheese, chives, salt, black pepper.
The focus of flavor in this recipe lies with the mushrooms and this might be a chance to try different varieties. Meaty mushrooms work well here but have fun experimenting! The smoked gouda adds a lovely twist to the flavor of the quiche but if you don't like smoked cheese then plain cheese would be fine. You could also miss out the cheese and add flavor by using herbs instead.
– The Wholesome Dish
Ingredients: eggs, milk or preferred milk alternative, salt, black pepper, mozzarella cheese, bacon, avocado.
You might never have thought of using avocado in a quiche but when you try this combination of avocado, bacon and cheese you will never doubt it again! The avocado adds pockets of smoothness and contrasts well with the meaty bacon. You could add some vegetables if you like – something like leek or spinach would work here.
– Lemon Tree Dwelling
Ingredients: bacon, onion, olive oil, eggs, egg whites, heavy cream or milk, flour of choice, Crystal Farms Shredded Swiss cheese, pepper, salt, chives.
When you cut a slice of this amazing quiche you won't be able to resist it! It even looks delicious! With all the flavors of traditional quiche Lorraine, the texture combination is so good that this would be a very impressive dish to serve to friends for lunch. In each bite, you have soft egg punctuated with onion and crispy bacon crumbles which gives you a very satisfying meal.
– Will Cook For Friends
Ingredients: eggs, heavy cream, milk, parsley, basil, salt, pepper, broccoli, spinach, red bell pepper, onion, jalapeno pepper (optional), cheese (optional), bacon or sausage or other meat (optional).
Whether you decide to use cheese in this recipe or not, you will end up with delicious mini quiches that are the best way to start the day well. They are so tasty and filling that they really will keep you going till lunch. If you prefer some meat in these you could add in bacon or sausage or even cooked ground beef and if you don't want any heat just skip the jalapeno!
– Kitchen Trials
Ingredients: olive oil, baby spinach or frozen spinach, garlic, eggs, cheddar cheese, salt, pepper.
We all know that spinach is good for us but if you're like me your family try to avoid it at all costs. That's why I started putting it into quiches because if you chop it quite small they don't notice so much and you can usually get them to accept it! Just try to get as much liquid as possible out of the leaves so your quiche will be set and not runny.
Vegetarian Keto Quiches
– Manila Spoon
Ingredients: olive oil, spinach, eggs, shredded cheese of your choice, mini-bella mushrooms, heavy cream, salt, pepper.
Here is another recipe that you can adapt to suit your palate or your fridge! These little cups are packed with the flavors of mushroom and spinach, but you could use any combo you like. If you make them as described you will find that they are really filling so you will only need one for
breakfast. These delicious cups can be frozen in an airtight container for up to one month.
– Carbophobic
Ingredients: almonds, butter, psyllium husk, salt, eggs, goat or sheep cheese, Parma ham, heavy cream, full-fat milk, Parmesan cheese, asparagus, salt, pepper, nutmeg.
I have always thought that there was something a bit decadent about asparagus, maybe because it is very much a seasonal vegetable, but I like to use it in dishes like this to impress my guests! Asparagus goes so well with strong flavors so you could use a stronger goat's cheese like feta. This recipe also gives you the option to use a crust if you prefer.
Other Keto Quiches
– I Breathe I'm Hungry
Photo Credit: Mellissa from I Breathe I'm Hungry
Ingredients: Pork Sausage Roll, eggplant, cherry tomatoes, parsley, eggs, heavy whipping cream, Parmesan cheese, Kosher salt, black pepper.
What a great idea to use sausage as the crust for this quiche! Sausage and egg is one of my favorite combinations for breakfast and with the added fresh burst from the tomatoes, this is now one of my favorite quiches. If you find that there is quite a lot of grease from the sausage meat, simply dab it with paper towels or you could try partially pre-cooking the sausage base
first.
– Low Carb Yum
Photo Credit: Lisa from Low Carb Yum
Ingredients: cauliflower, Mozzarella cheese, parmesan cheese, egg, salt, garlic powder, bacon, cheddar cheese, heavy cream, water.
With its perfectly set egg custard and pieces of crispy bacon, this quiche would make a lovely breakfast to start your day. The recipe serves eight, so this would be enough for a whole week or to use for your lunch on the go. The crust on this quiche is made with cauliflower so it is gluten-free and low-carb, but this quiche recipe works just as well without the crust.
– Peace Love and Low Carb
Photo Credit: Kyndra from Peace Love and Low Carb
Ingredients: Low Carb Pie Crust, eggs, breakfast sausage, feta cheese, heavy cream, bell peppers, onion, garlic, sea salt, black pepper.
Here is another slant on quiche that uses a low-carb base and is filled with flavor of the sausage and cheese, but has an added hit from the garlic. Again this would be perfect for a nutritious breakfast or a filling lunch served with fresh salad leaves or as a main with roasted veggies for a midweek dinner. Pre-cooking the base means that it does not go soggy once you add the eggy filling.
– Maria Mind Body Health
Ingredients: almond flour, Parmesan cheese, Celtic sea salt, egg, butter, chicken or beef broth, Swiss cheese, cream cheese, bacon, leeks, cayenne pepper.
They say that men don't eat quiche! Well I disagree. This is one of my husband's favorites for lunch and he has been known to sneak through to the fridge at night for a second helping! The crust uses almond flour and parmesan cheese and is perfect for low-carb dishes like this, and you just can't beat the combination of bacon, eggs and cheese for the filling.
– My Keto Kitchen
Ingredients: almond meal, butter, salt, white pepper, bacon, brown onion, Gruyere cheese, eggs, whipping cream, Dijon mustard, salt, white pepper.
Here is another quiche Lorraine recipe with a low-carb crust that the whole family will enjoy. The filling has an added boost by adding the mustard which brings out the flavor of the cheese really well. If you have difficulty pressing the crust mix into the dish you could try my trick of using the back of a teaspoon for the bit where the base meets the walls of the dish.
– Engineered Creations
Ingredients: butter, eggs, heavy cream, cheddar cheese, black pepper, bacon, baby spinach, onion.
This recipe would be ideal if you have a busy morning but need something healthy and satisfying for lunch – just pop the ingredients in and turn it on and away you go! By lunchtime it will be cooked and ready to serve! I recommend you pre-cook the bacon to save the quiche having too much bacon grease in it. Serve with a lovely salad for a nutritious and filling meal.
– Maria Mind Body Health
Ingredients: cottage cheese, baking powder, salt, oregano, eggs, Mozzarella cheese, Parmesan cheese, onions, garlic, chicken sausage, olives (optional), peppers (optional), Italian sausage (optional), mushrooms (optional).
Here is a great idea for a pizza 'base' that you can top with whatever toppings you like. The recipe has chicken sausage in it, but you could use your favorite alternative sausage or swap it for bacon pieces. You can also try putting toppings on – Italian sausage and olives or bacon and mushrooms would be great. Because of the oregano you will find that this actually has the flavor of pizza!