Mouth Watering Keto Eggplant Recipes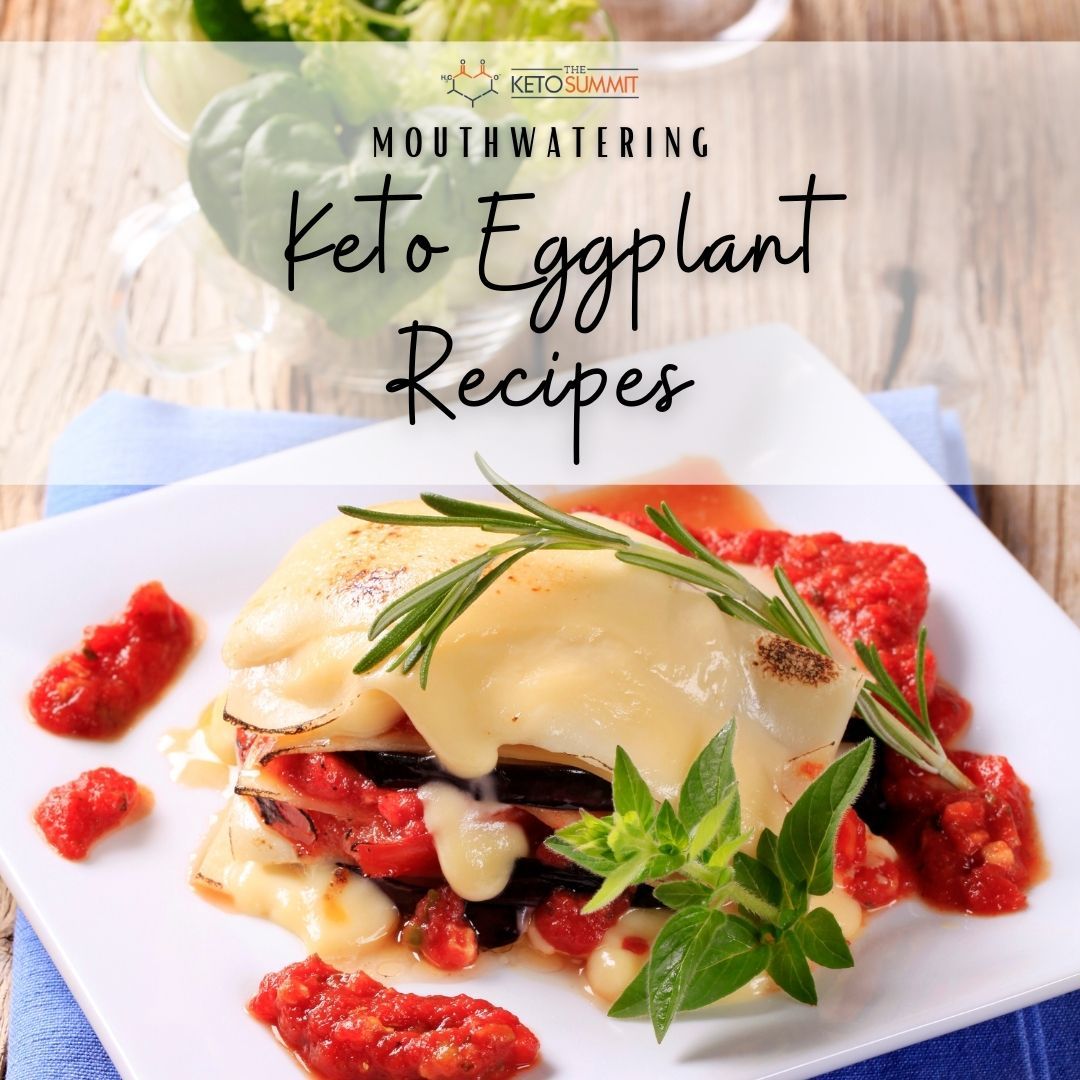 As you probably already know, vegetables are still an important food group even on the keto diet. Sure, there are slightly fewer vegetables on the keto food list, but this common purple plant can make it way easier for you to enjoy more veggies on Keto!
I'm talking of course about the humble eggplant or aubergine. This amazing plant is full of nutrients like vitamin C, the B vitamin complex, copper, manganese, magnesium, and potassium.
Is eggplant keto friendly?
Yes, eggplant is keto-friendly! Eggplant is a lot lower in carbs than other vegetables as each 100g serving only contains 6g of total carbs. 3g of that is fiber, which means it has only 3g of net carbs.
Eggplant is an incredibly versatile plant, it can be used as a replacement for either meat, potatoes, or starches in various dishes. It's also amazing as the main ingredient in spreads and dips like baba ganoush.
Eggplants always taste bitter to me, what can I do?
Many people have a lot of trouble eating eggplants due to their bitter taste, but if you know this one simple trick, you will be able to prepare delicious eggplants every time.
Before you start incorporating the eggplant into your dish, slice it (or cut it into how you plan to use them) and salt it well. Then leave it out on the counter for at least 30 minutes. This allows the osmosis process to draw excess water out along with solanine (the chemical that causes the eggplant to taste bitter). Use a paper towel to dry the eggplant and then cook. This way you can convince any picky eater to become an eggplant lover!
Unfortunately, this is a lengthy process, so let's make it simpler: slice or dice the eggplant and boil it for 5 minutes in salted water. Then drain and dry well. The result will be the same, and you can use this method if you plan on adding the eggplant into stews or layered dishes.
What are some popular dishes that can be cooked using eggplant/aubergine?
Ingredients: eggplant, salt, egg, almond flour or coconut flour, pork rinds (optional), dried Italian herbs, Parmesan cheese or any hard cheese, mozzarella, pepper, ghee or coconut oil, marinara sauce (optional).
Eggplant parmesan or eggplant parmigiana, if you want to sound continental, is a very light dish, suitable for either lunch or dinner. These slices of eggplant look so good with their parmesan coating, browned and crispy! These work well as a delicious snack to fill the gap that chips used to take, or you can use them as a side dish.
If you find you cannot stomach this much aubergine, you can replace some of it with crispy zucchinis, cooked the same way as the eggplant slices.
Ingredients: ground pork, ground beef, onion, garlic, tomatoes, tomato paste, fresh basil, fresh parsley, fresh oregano, fresh thyme, fennel seeds, eggs, coconut oil, salt, eggplant, ricotta.
It's surprisingly easy to turn this carb filled comfort food into a keto staple...all you need to do is replace the lasagna sheets with roasted eggplant slices.
But what about the bechamel sauce?
Well, you can't use bechamel for your keto lasagna as it's made with flour, which isn't keto friendly. However, you can instead use a mixture of ricotta cheese, grated parmesan and egg. You can use this combination in any type of casserole to give it a creamy cheesy texture.
Ingredients: eggplants, almond flour, eggs, coconut oil, cayenne pepper, salt and pepper
Making salty, crispy, dippable "fries" can be an easy task if you use eggplant. The fries keep their shape well due to the crispy coating and do not become a soggy mess. These fries are also affordable as aubergine is a common vegetable found in all supermarkets and farmers markets, depending on the season.
Ingredients: eggplant, extra virgin olive oil, whole milk mozzarella cheese, tomato sauce, pepperoni, basil, sausage, green pepper, onion, salt, pepper, oregano.
Making pizza is simple if you use roasted eggplant slices as a base, and then just add whatever toppings you want! Slice the eggplant lengthwise to give you a larger surface for toppings and start getting creative with this low carb dish! You could even get the children involved and let them decorate their own pizzas for lunch! Other toppings could include sausage, mushroom slices, or pre-cooked ground meat.
Ingredients: eggplant, salt, Parmesan cheese or any hard cheese, mozzarella, pepper, ghee or coconut oil, marinara sauce (optional).
The eggplant casserole is eggplant parmigiana's little sister. The ingredients are similar, as well as the cooking method. If you want a creamier texture, you can use the ricotta mixture from the lasagna recipe as an additional layer.
Ingredients: eggplant, chicken breast, spinach, tomatoes, garlic, coconut milk
This amazing casserole recipe is geared for everybody's tastes. It's rich, creamy, packed with protein and has a healthy amount of vegetables. The creaminess brought by the full fat coconut milk will make you forget there's no dairy in it!
Ingredients: eggplant, mushrooms, garlic, onion, oregano, thyme, salt and pepper, olive oil, hemp hearts (optional)
These eggplant meatballs are a great alternative to regular meatballs. They are full of vitamins while also being low carb and versatile. You can use them in a casserole, as topping for zucchini noodles, as a quick snack or healthy appetizer with a side of marinara for dipping.
Ingredients: eggplant, ground beef, ground lamb, oregano, mint, cinnamon, salt and pepper, marinara sauce, cream cheese, butter, heavy cream, mozzarella, cheddar
Moussaka is a traditional Greek dish, made using potatoes, lamb, and bechamel sauce. It's like a lasagna but with only one solid meat layer. You can replace the potatoes with roasted eggplants. And for more variation, you can make moussaka the traditional way with only one layer, or add as many layers as you want or have time to prepare!
Ingredients: eggplant, zucchini, butter, garlic, curry powder, coconut cream
This is a quick and easy recipe for when you are hungry but you have no idea what to cook. It's quick, cost effective, and incredibly savory. This is great as a side dish or a light snack. If you serve it with cauliflower rice (only 2g net carbs per serving), it can also be a quick and scrumptious lunch.
Ingredients: eggplant, mushrooms, garlic, onion, coconut cream, cumin, coriander, turmeric
This is another great curry recipe which revolves around eggplant. The secret here is choosing a firmer eggplant, that will keep it's cubed shape in the cooking process. The beauty of this recipe is that it doesn't use pre-mixed curry powder, so you have the freedom to customize the flavor however you want.
Ingredients: ground pork, eggplant, egg, marinara sauce
This recipe is perfect for those moments where you want to eat something new, savory, and satisfying but you have no idea what to cook. It's quick, it's easy and it only uses a few ingredients. Plus, it's incredibly flavorful and is a great addition for a dinner menu.
Ingredients: chicken breast, eggplant, coconut cream, onion, bell pepper, garlic, tomato sauce, coconut oil, chilli, cumin, oregano
Enchiladas are one of those dishes that everyone loves but hardly anyone can tell you what goes in them. And that's the beauty of it - they can be filled with whatever you have around the house. And by using slices of eggplant to replace the corn tortilla, you can easily transform this dish to be a perfect fit for your keto diet.